22nd April 2021
Google postpones Core Web Vitals update from May to June
As a team, we've been having lots of conversations internally and with clients about Core Web Vitals (CWV) since November last year. This was when Google confirmed that CWV would become a ranking signal from May 2021 along with existing UX signals such as mobile-friendliness.
We've been sharing some of these conversations on our blog – Back End Developer Adam gave the technical low down on what Core Web Vitals is, and Head of Creative Carl gave his opinion on how it could affect UX and design.
Since the end of last year, Google has repeatedly stated that site owners shouldn't expect extremes changes when the updates do come into place. It seems that, in a situation of two websites performing similarly for other ranking factors but competing for one keyword, the website with the better page experience and CWV would take the lead.
Lots of site owners have been making updates to their site so that they're not penalised by the changes, and we've been working closely with clients to assist with this. However, Google has now announced that the changes won't go ahead in May 2021 and instead will be gradually rolled out from mid-June 2021 until the end of August.
The reasoning for this is to give people longer to prepare for the change and it allows Google to monitor for "any unexpected or unintended issues". They have also reiterated that we shouldn't expect drastic changes when the updates do go live.
Alongside this announcement, they have added a Page Experience report in Search Console to give more insight into how a website is performing, and a percentage score of how many URLs have a good page experience.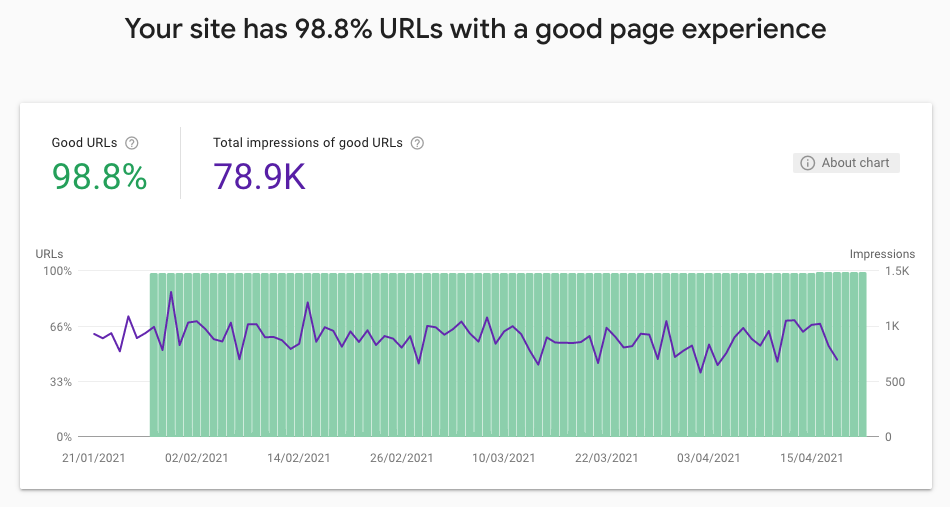 Of course this will be staying on our radars until August and, even if not for ranking factors, we recommend companies to review the page experience of their website regularly. Page speed, content loading time and layout shift can affect user experience and conversion rates drastically so should be addressed.
Want to know more about how your page experience scores? Get in touch with us.